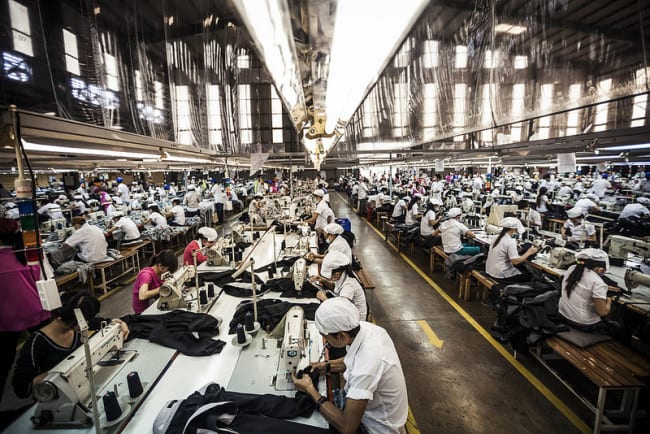 Do you know what countries like China, India, Vietnam, Bangladesh all have in common? They are the top players in the apparel exports in the world and have a total market share of more than 50% in the apparel industry. I am sure 50 years ago, no one would have thought about Asian countries dominating the clothing market. USA, Canada, UK and other developed countries had a major head start, but they lost their advantage a decade ago. The main reason why Asian countries dominate this market can be attributed to the easy availability of raw materials, and cheap labor, yes cheap labor which leads to low cost in production, and ultimately leads to high profits.
Major brands like Nike, Decathlon, Puma etc get their clothes manufactured in Asian countries. It can be said Asia has become the hub for apparels manufacturing. Chinese clothing manufacturers produce good quality clothes, they have a brilliant infrastructure for the clothing industry, and they are moving towards mechanized production with each passing year. India is the largest cotton producer in the world, and the garment manufacturers in India use this cotton to make quality cotton clothes, which are in high demand. Clothing industries in Bangladesh has the cheapest labour in Asia and much appreciated green factories whereas Vietnam clothing manufacturers have infrastructure and quality, better than India and Bangladesh. It is much cheaper to mass-produce clothes in these countries.
In recent times many clothing companies have been outsourcing clothing manufacturing in Asia, and it gives them good benefits. These countries already have the raw materials, cheap labour, and an intensive production line, which is tempting to any buyer. It is easy to find a clothing manufacturer here as there are so many, that's why many people who have started their own clothing lines have their clothes made in one of the Asian countries. China is still the undisputed player in Asia as well as in the world, but rising trade tensions and imposed tariffs by the US have strained its market, and it's Asian neighbours are taking the advantage.
Though there are still a lot of problems with Asian manufacturers such as low wage for workers, poor working conditions, long working hours, quality issues etc, they are trying to change it. These countries have also started investing in new fabric technologies to produce clothes such as seam textiles, breathable clothing etc. They have also started making clothes from synthetic fibres such as modal fabric, agave fabric, bamboo silk fabric, fabrics made from lyocell, viscose etc. These fabrics are a cheaper alternative to traditional silk, wool, cotton etc and are much cheaper to be made. If you take all of these factors into account, it is easier to see why Asian countries are dominating the clothing industry in the world.