TEX GARMENT ZONE – the very name of our company as recognized in BANGLADESH. We are a Clothing Company having our own Production unit as well as Outsourcing. A large number of sourcing factories provide close-in manufacturing support and help meet the growing demand while ensuring superior quality of our products.
TEX GARMENT ZONE is specialized in large variety of Light knit, Heavy knit and Woven. We supply clothes for Men, Ladies, Boys, Girls and above all for kids of any design- for all the seasons. Our product ranges from Shirts, Shorts, T-shirts, Polo, Sweatshirts, Pants, Tops, Sweaters and many more trendy and cool clothing according to the choice of the Buyers.
Currently TEX GARMENT ZONE is serving reputed overseas customers from The Netherlands, Denmark, Germany, Sweden, Japan, Australia and New Zealand.
In order to offer you our best price, all we need to know is your specifications and purchase quantity. We keep the cost base low by offering the most viable selling price. As a result, our Buyers prefer us and love to have a long and durable business relationship with us. That's why we are looking for Prospective Buyers like you on a long term business relationship and for expansion of business to your beautiful country.
You have our assurances for Competitive Price, High Quality, Timely Delivery and Satisfactory Professional Services. All of these attributes are now the hallmark of TEX GARMENT ZONE.
The best price and payment condition
The best service and deliveries
We put in great effort towards maintaining a high level of integrity in a business that is marred with problems, delays and human errors. As the gatekeepers of controlling and avoiding errors, our team members work long hours to ensure timely responses and to minimize problems.
Our model is simple yet different. We believe in sharing ownership with our team members, thus providing them the incentive to rise to their best ability, in turn, minimizing complacency and bureaucracy in the work place. Our owner operated offices have a commercial approach yet conform to our internal systems both operational and in maintaining TEX GARMENT ZONE.
We are global yet affordable, large yet personal, most of our customers have been with us for long time and our exponential growth in the last two years has taught us that we need to manage our business even better. While we inspect and source goods for our clients, We have made it essential to continuously introspect and source capable team members so that in the near future we become more efficient and responsive to the changing world of sourcing.
TEX GARMENT ZONE is committed to and believes in investing in social compliance, state of the art management and client information systems.
A) To source very good manufacturers of garment including men's, ladies, girls, boys and children.
B) To accept garment orders at the very competitive price with GSP or without GSP
C) To source quality fabric, cotton, linen, CVC, T/C, Nylon etc from Hong Kong, China, India, Korea, Taiwan, Malaysia, Indonesia as well as from local market.
D) To handle all sorts of import/export duties commercially through bank and others concerned govt. and non govt. organization.
HOW WE EXECUTE OUR ORDERS

How we communicate with buyer and execute an order:
We do consumption and costing for any specific style for customer and then we confirm the price to our buyer as quickly as possible.

Our team contacts the buyer and collects an order by showing the garments they made before or directly ask which type of garments customer needs.

Then we decide and select our best factory to make that order . The factory must be audited by recognized organization like Oeko-tex, WRAP, ACCORD, ALLIANCE etc. (Depends on Buyer).

Then development merchandiser develops the product send development sample for any correction.

Usually buyer makes some modification on development sample and sometimes they want us to redevelop the sample. Sometimes they just comment and advise to submit 1st Fit sample.

Then fit sample is made and our QC team check thoroughly with technical file and approved development sample.

Sometimes Red seal sample is sent for approval which is also known as buying sample. And if the red seal sample is approved, the order is confirmed.

After receiving and reviewing the order sheet, we request buyer to open the master LC or send advance TT.

Then Production merchandiser follows up the total production stages. After getting approval of red seal or fit sample, he has to book the fabric and trims/accessories.

He has to follow up the fabric and trim arrived in factory on time or not. After all approval he calls production planning meeting with factory.

QC has to follow the production checking with approved samples, fabric and accessories. He helps production merchandiser with giving all information in production stage.

QC's main task is to check all samples (red seal, gold seal, web sample etc) sent to buyer, and help factory people whether there have any query or question.

Fabric, trims and accessories are checked in lab in buying house or third party lab. It's called in-house test like Bulk fabric hanger, shade variation in shade continuity, lab dip, fabric quality etc.
Different types of inspection also done before ex-factory/shipment such continuous inline inspection, pre-production inspection( after finishing 15% of bulk production), mid-term inspection( after finishing 50% of bulk production), final inspection etc.

After final inspection we deliver the goods to port on our transport. Before that we sent booking request to buyer nominated forwarding agent and wait for the approval.

We follow up cargo staffing, ETD, ETA and update buyer accordingly.

After shipment of total goods, we prepare the shipment documents without delay and submit to bank. In case of TT payment, we wait for the balance payment from customer and then send shipment documents to buyer directly.
How We Control Quality & Our Inspection Procedure
At first we hand over the order to two of our merchandiser and two QA people. Every morning they discuss the whole status in the daily meeting with our General Manager, Merchandising.

One QC concerning that particular order will stay in the factory whole day (production time) until final shipment.

We always need a pre-production sample and then make a pre-production meeting before we go into production. Our merchandiser and QA inspector go to the factory at the time of pre-production meeting, check the sample, pattern and final comments on sample from buyer and if they are satisfied, they give instruction to the factory people for a trial production.
Steps in garments inspection:
In garments industry, the desired or expected quality parameters are controlled by inspection. We do this inspection in three steps:
Raw material inspection in garments factory
Fabric, sewing threads, buttons, trims, etc. are the raw material in garments industry. The quality of a final garment depends on the quality of a fabric when it is received as a roll. Even the most outstanding manufacturing methods can not compensate for defective materials. So before production of garments quality, we check raw material which is very important task in garment industry.
In process inspection in garment factory
From the starting point of garment manufacturing up to garments ready to shipment, we execute the in process inspection. At least 65 to 80% defects can be checked and controlled through in process inspection.
Final inspection in garment factory
Final inspection consists of inspecting finished garments from the buyer's point of view; size measurements, form fitting (putting garments on the proper size manikins to see if they properly fit labeled sizes); and live modeling if necessary (again to see if the garments properly fit the labeled sizes). Final inspection may occur before or after garments are packed in poly bags and cartons. We do this inspection after garments are packed so that proper size and style markings on the package can also be checked.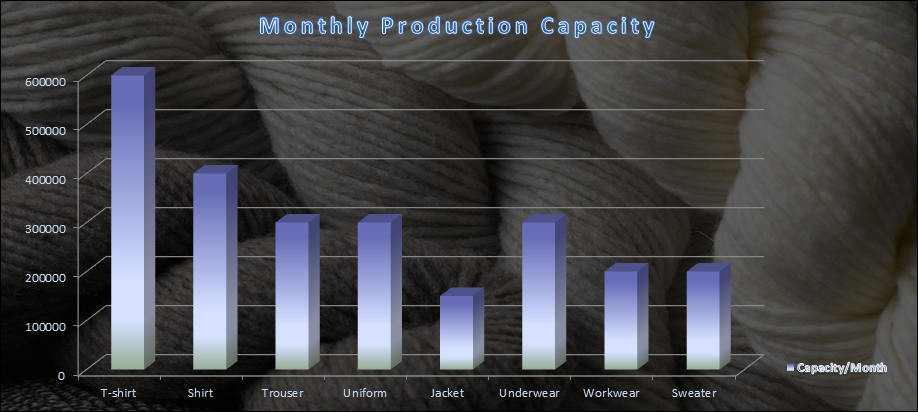 TEX GARMENT ZONE

was established as a garments supplier for overseas importers and importer's agent around the world. Our portfolio includes supplying of Woven, T-shirt & Sweater garments. We have many years of experience being innovative and creative, generating a strong and steady flow of new ideas, concepts and designs that works in the trends and fashions world. We determine to supply of specific needs in terms of design, materials & quality. We have developed an extremely flexible production system, where quantities, qualities, lead time and competitive prices are not a contradiction.
We

are Committed to helping customers grow and maximize their investments, TEX GARMENT ZONE brings you the latest and most relevant Factory news & others sourcing. Our careful activities will help you make informed decisions and stay ahead of the competition.