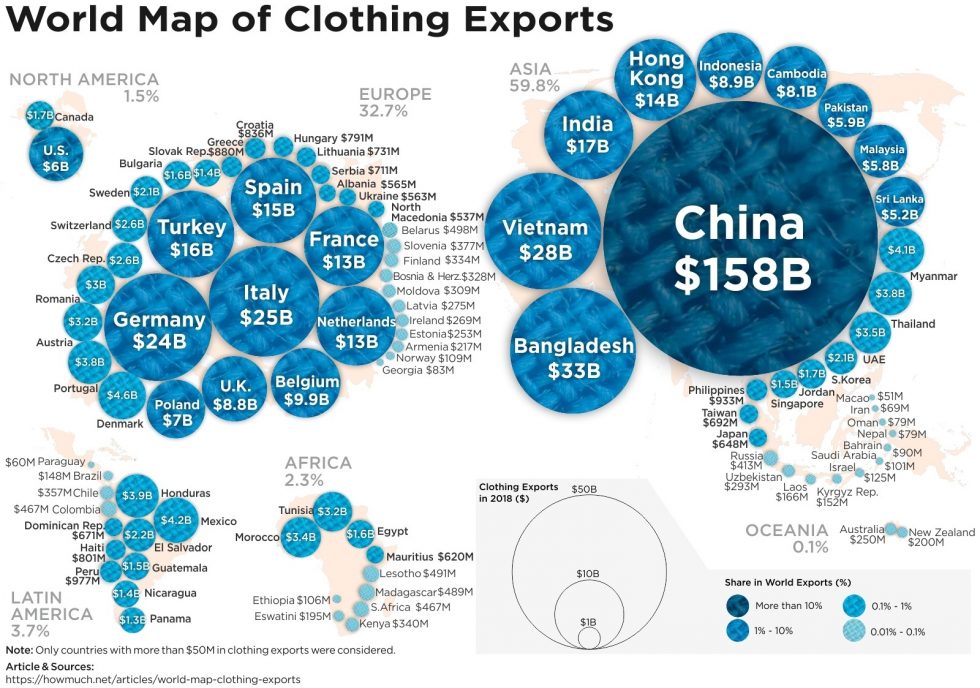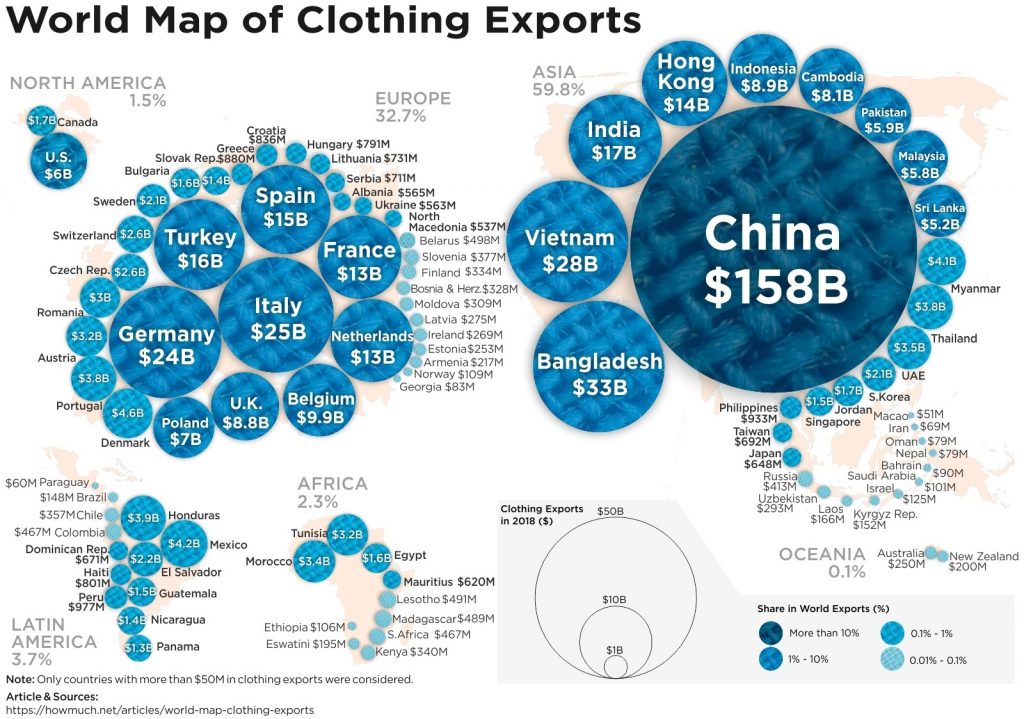 The clothing industry is becoming more solid in the world economy, where over time more and more countries have joined this market, therefore, competition is always increasing and standards are higher. In this sense, the textile industry is so large that it produces more than 480 billion dollars a year, this being a substantial amount, which is logical as it is an industry with many years of evolution and solidity. Now-a-days customers are focusing on eco friendly clothing and manufacturer countries are establishing their industry accordingly.
Now, there are many countries that are immersed in this process, since 2010 countries like Turkey has increased its participation in this market enormously, for 2016 it registered an increase in exports of 16%, reaching almost 20 billion dollars. Traditionally, other nations such as Bangladesh have always been at the top of exports, for 2018 it presented sales of close to 33 billion dollars in exports, both nations have a particular concern in being leaders in both the production of fabrics and of finished garments. Bangladesh has also good custom design clothing manufacturers.
China has led the textiles manufacturing business for many years, and continues to do so with its 160 billion exports. Its total annual production is huge compared to the total production of some groups of exporters in other countries. A large domestic market, increases in the minimum wage and overtime they pay in China make domestic consumers spend their income on domestic products. Being its main client the national market.
In case you want to start importing a type of product that is difficult to carry out in your country, these are some data that may help you decide and you will be able to know a little more about the main textile producing countries. China is the leading exporter of fabric and finished garment
Secondly, there is the European Union, basically in fabric, and curiously, the European Union is the main importer of fabric and finished garment.
Behind are the United States and India and, as of 2010, Morocco, Vietnam, Bangladesh, Turkey and Korea significantly increased their participation in the world textile market, both in fabrics and in finished garments.
Some countries that are also growing rapidly are: Peru, Brazil and Indonesia. Few countries are focusing on eco friendly clothing for the current demand.
Each of them has its characteristics, I am in love with the creativity of Bangladesh. Although with the productions in that country, it is better to do follow-ups every 48 hours at least, and the weather has problems; Its creativity, its value for money and its openness to small productions make it an ideal country for small companies. Also customers can find cheap t shirts wholesale from Bangladesh.
For its part, the United States also has a strong historical presence in the textile industry, according to figures from 2016, the North American country decreased its export quantity by 6%, reaching it to position itself in tenth place as world products, reaching a figure of 6 billion dollars, enough for a country that does not have the textile industry as strong. Entering the first three positions, Bangladesh is in third place, with figures of 28 billion dollars, which represents an increase of 4% over the previous year, these are figures from 2016, this nation also has its diversified textile production in fabrics and finished pieces. In second place, the European Union is located with 119 billion dollars in exports, that contradictorily they are also the first textile importer. Now, in first place, is China, the Asian giant has years at the top of this ranking, for 2016 it surpassed the barrier of 160 billion dollars, standing out for its fabrics and finished parts, in addition, the technology and machinery used It is the best in the world. For example, Medical scrub fabrics in Bangladesh is not available enough, so manufacturers have to import the fabric a lot.
Ultimately, the apparel industry remains a mainstay of the global economy and will continue to grow with the ease offered by online sales platforms that motivate smaller creators to market their products.